Fleet
In 2014, LATAM Airlines Group's member airlines operated a fleet comprised by 327 aircraft with an average age of 6.9 years, being one of the youngest in the industry.
During the year, further progress was achieved on the fleet restructuring plan launched in 2013 to reduce the number of aircraft models operated. This plan, which is the result of a profound analysis of the LATAM's fleet needs after the association between LAN Airlines and TAM and the structural changes that have occurred in the competitive environment, implies that, over the next few years, 39 less efficient planes will be phased out of the fleet and aircraft models will be allocated to the most appropriate markets.
In 2014, LATAM phased out all of its Dash Q400s and Boeing 737s (inherited from the Aires airline in Colombia) as well as seven A330s and three A340s and expects to conclude the phase out of these older models by 2016. As a result, its fleet will comprise the most efficient aircraft available in the market.
In the first quarter of the year, LATAM recognized a provision of US$112 million for estimated penalties related to the anticipated redeliveries and other redelivery expenses expected to be incurred as a result of this fleet restructuring process.
For its short-haul passenger operations - flights on domestic routes and regional routes within South America – the airlines that make up LATAM Airlines Group utilized a fleet of 238 aircraft in 2014.
For its short-haul passenger operations - flights on domestic routes and regional routes within South America – the airlines that make up LATAM Airlines Group utilized a fleet of 238 aircraft in 2014, mainly from the Airbus A320 family, positioning it as one of the world's three largest operators of Airbus planes in the world. In 2014, LATAM incorporated 11 Airbus A321s, the largest model in this family, which is used on the busiest regional routes. This left LATAM with a total of 21 aircraft of this model as of December 2014.
LATAM's medium-term plan on short haul routes is to have a fleet formed exclusively by aircraft from the A320 family, with a focus on A321s and A320neos, whose use represents significant savings in comparison to A320s. The A320neo is a new option within the A320 family with a more efficient engine and new sharklets implying savings of up to 15% on fuel and a reduction in annual CO2 emissions of 3,600 tons. LATAM has placed orders for 36 A320neos which will be delivered between 2016 and 2018.
For its long-haul passenger operations, the airlines that make up LATAM Airlines Group utilized a fleet of 74 aircraft in 2014, including ten Boeing 787-8 Dreamliners, five of which were incorporated during the year, as part of an order for a total of 32 aircraft of this model for delivery over the next four years. Considered "ecological" and the most efficient of its type, this model is now operated by the Company on almost all its main long-haul routes. In addition to the Company's daily operations from Santiago to Madrid-Frankfurt, New York and Buenos Aires, the Dreamliner began to be utilized on five other routes starting in August: Miami, Punta Cana, Cancun, Mexico City and Sao Paulo. LATAM Airlines Group is the first group of airlines in the region to operate this aircraft model which stands out for characteristics that include its unrivalled performance in regard to fuel consumption, presenting a 12% reduction in costs per ASK as compared to the Boeing 767.
In 2014, LATAM also began retrofitting TAM's Boeing 777s in order to include an improved business class and offer a better product on long-haul routes, mainly to the United States.
In 2014, LATAM also began retrofitting TAM's Boeing 777s in order to include an improved business class and offer a better product on long-haul routes, mainly to the United States. As of December2014, four of these aircraft had been already retrofitted and full retrofit of this fleet is expected to be completed by mid-2015. This process seeks to enhance passengers' travel experience for the next years, while TAM waits to receive a larger critical mass of Airbus A350s. The incorporation of this aircraft model will imply a very important increase in efficiency as compared to existing aircraft in this category, thanks to operating costs that are around 25% lower than those of other aircraft, such as TAM's Airbus A330s, and a significant reduction in CO2 emissions. In 2015, LATAM Airlines Group expects to take delivery of the first Airbus A350 aircraft out of a total order of 27 A350s, which will be a milestone in the step towards a new generation of long-haul aircraft in TAM's fleet.
Overall, the LATAM's constant renewal of its fleet seeks to incorporate the best technology and position it as a leader on efficiency and an increase in capacity through the incorporation of larger models.
As of December 2014, LATAM had a fleet of 15 full dedicated cargo, comprising eleven Boeing 767Fs - two of which have been leased to a cargo operator outside the region since the last quarter of 2014 and one of which was also leased to the same operator in 2015 - and four Boeing 777Fs, the most modern freighters of their type in the industry. The latter have a significant advantage as compared to the B767 freighters since they may transport double capacity but only consume 50% extra fuel.
LATAM's cargo business strategy aims to optimize the use of the bellies of its passenger aicraft and, as a result, implies a gradual reduction in its freighter fleet.
LATAM's global fleet plan envisages commitments for US$1,689 million in 2015 and US$2,343 million in 2016. These will be financed using a combination of financial lease and sale and leaseback (acquisition with subsequent rental).
MAINTENANCE
In 2014, LATAM Airlines Group continued to consolidate the integration of LAN's and TAM's Maintenance, Repair and Overhaul (MRO) installations, a process that began in 2013.
With facilities in Brazil and Chile, the MRO is the unit responsible for heavy maintenance of the LATAM's aircraft and occasionally also provides services to third parties. In Brazil, the facility, located in the São Carlos (SP/Brazil) Technological Center, has an area of 100,000 m² and its own 1,720-meter runway while the Chilean facility, at Santiago's International Airport, has an area of 10,000 m². Services not provided by this unit are outsourced to some of MRO's partners around the world.
LATAM's MRO unit is audited and certified by major international aviation authorities from the United States, Europe, Brazil, Chile, Argentina, Ecuador, Paraguay and Canada as well as other countries for Heavy Maintenance and Components Repair and Overhaul for the Airbus A320 and A330 families, Boeing 767s and 787s, ATR-42/72s and Embraer E-Jet 170/190s. LATAM also has minor capabilities for the repair and overhaul of Airbus A340 and Boeing 777 components.
The facilities located in São Carlos also provide engineering services and have a complete technical training center for the development of LATAM MRO's capabilities as regards human skills.
In 2014, the MRO unit carried out 2.5 million man-hours of work (a 39% increase on 2013), serviced 274 aircraft for LATAM and third parties, provided approximately 60,000 components and performed 15 landing-gear overhauls. In addition, it carried out heavy maintenance for almost 100% of the Company's aircraft from the Airbus A320 and A330 families and covered 75% of its demand for General Component Repair and Overhaul. TAM's external maintenance and repair clients include Azul, Trip, Avianca, the Brazilian Air Force, Embraer, Goodrich and Hamilton Sundstrand.
It is important to note that, in 2011, LATAM embarked on a process of transformation of its MRO area in order to align it with international standards as regards cost, quality, reliability and time. In 2014, in the context of this process, it completed a year without any type of accident at MRO Sao Paulo while MRO Santiago reduced its accident rate by 40%.
In June 2014, LATAM Airlines Group started construction of a modern new maintenance hangar at Miami's international airport. Representing an investment of over US$15.7 million, this will have an area of 9,150 m² and will be its first such facility in the United States. Located in the airport's cargo area, it will provide maintenance services such as daily controls, A checks, engine changes and major repairs for both the passenger and cargo planes of LAN, TAM and the subsidiaries that operate to and from Miami. Changes of components will also take place at the facility since it will serve to store spares, components and aircraft engines to support maintenance services of this type.
| | | | |
| --- | --- | --- | --- |
| | Rented | Owned | Total |
| Passengers Aircraft | | | |
| Dash 8-200 | 5 | 2 | 7 |
| Airbus A319-100 | 12 | 40 | 52 |
| Airbus A320-200 | 63 | 95 | 158 |
| Airbus A321-200 | 3 | 18 | 21 |
| Airbus A330-200 | 5 | 8 | 13 |
| Boeing 767-300 | 4 | 34 | 38 |
| Airbus A340-300/500 | 0 | 3 | 3 |
| Boeing 777-300 ER | 6 | 4 | 10 |
| Boeing 787-8 | 4 | 6 | 10 |
| TOTAL | 102 | 210 | 312 |
| | | | |
| Flota Carga | | | |
| Boeing 777-200F | 2 | 2 | 4 |
| Boeing 767-300F | 3 | 8 | 11 |
| TOTAL | 5 | 10 | 15 |
| | | | |
| TOTAL FLEET | 107 | 220 | 327 |
| | | | |
Familia Airbus A320
A319-100
Length: 33,8 mts
Width: 34,1 mts
Seats: 144
Cruising Speed: 850 km/h
Maximun weigth at taken-off: 70.000 kg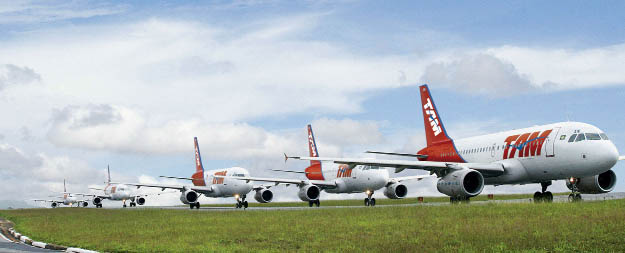 A320-200
Length: 37,6 mts
Width: 34,1 mts
Seats: 168 - 174
Cruising Speed: 850 km/h
Maximun weigth at taken-off: 77.000 kg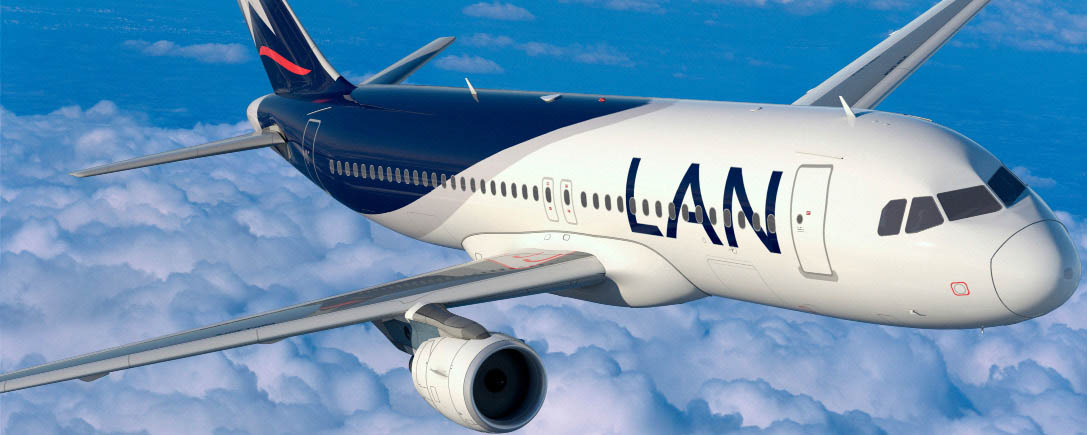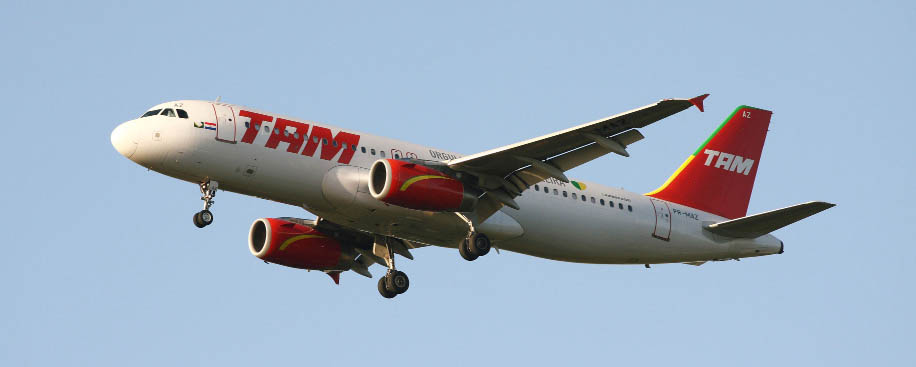 A321-200
Length: 44,51 mts
Width: 34,1 mts
Seats: 220
Cruising Speed: 850 km/h
Maximun weigth at taken-off: 89.000 kg
FAMILIA AIRBUS A340
A340-300 Length: 63,7 mts
Width: 60,3 mts
Seats: 260
Cruising Speed: 896 km/h
Maximun weigth at taken-off: 275.000 kg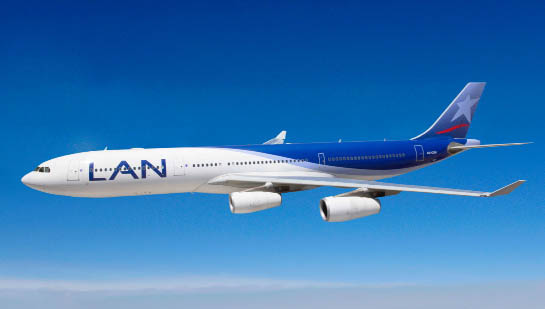 A340-500
Length: 67,9 mts
Width: 63,45 mts
Seats: 267
Cruising Speed: 907 km/h
Maximun weigth at taken-off: 372.000 kg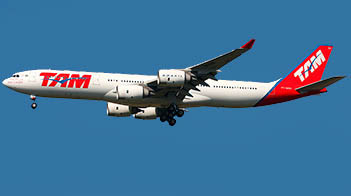 FAMILIA BOEING
Boeing 767-300
Length: 54,2 mts
Width: 47,6 mts
Seats: 221 - 238 - 205
Cruising Speed: 869 km/h
Maximun weigth at taken-off: 184.611 kg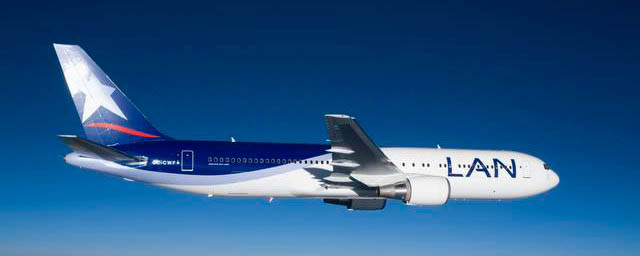 Boeing 777-300 ER
Length: 73,9 mts
Width: 64,8 mts
Seats: 362
Cruising Speed: 896 km/h
Maximun weigth at taken-off: 347.800 kg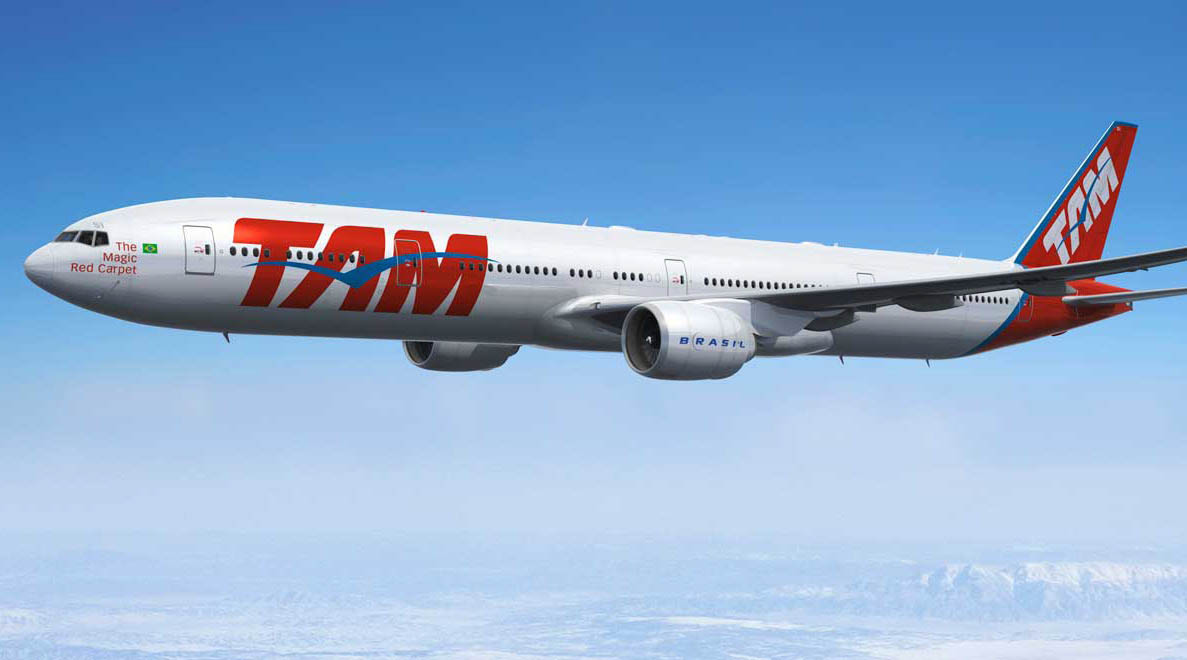 Boeing 787-8
Length: 56,69 mts
Width: 60,0 mts
Seats: 247
Cruising Speed: 913 km/h
Maximun weigth at taken-off: 227.930 kg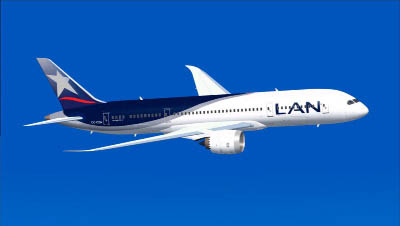 Familia Dash
Dash 8-200
Length: 22,25 mts
Width: 25,89 mts
Seats: 37
Cruising Speed: 500 km/h
Maximun weigth at taken-off: 16,470 kg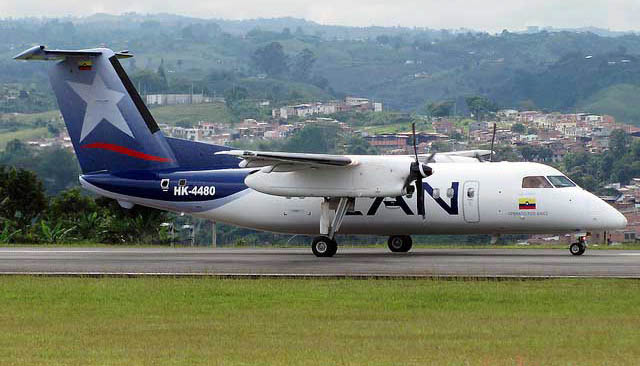 Familia Boeing Freighter
Boeing Freighter 767
Length: 54,2 mts
Width: 47,6 mts
Volumen de carga: 438,1 m3
Cruising Speed: 896 km/h
Maximun weigth at taken-off: 186,880 kg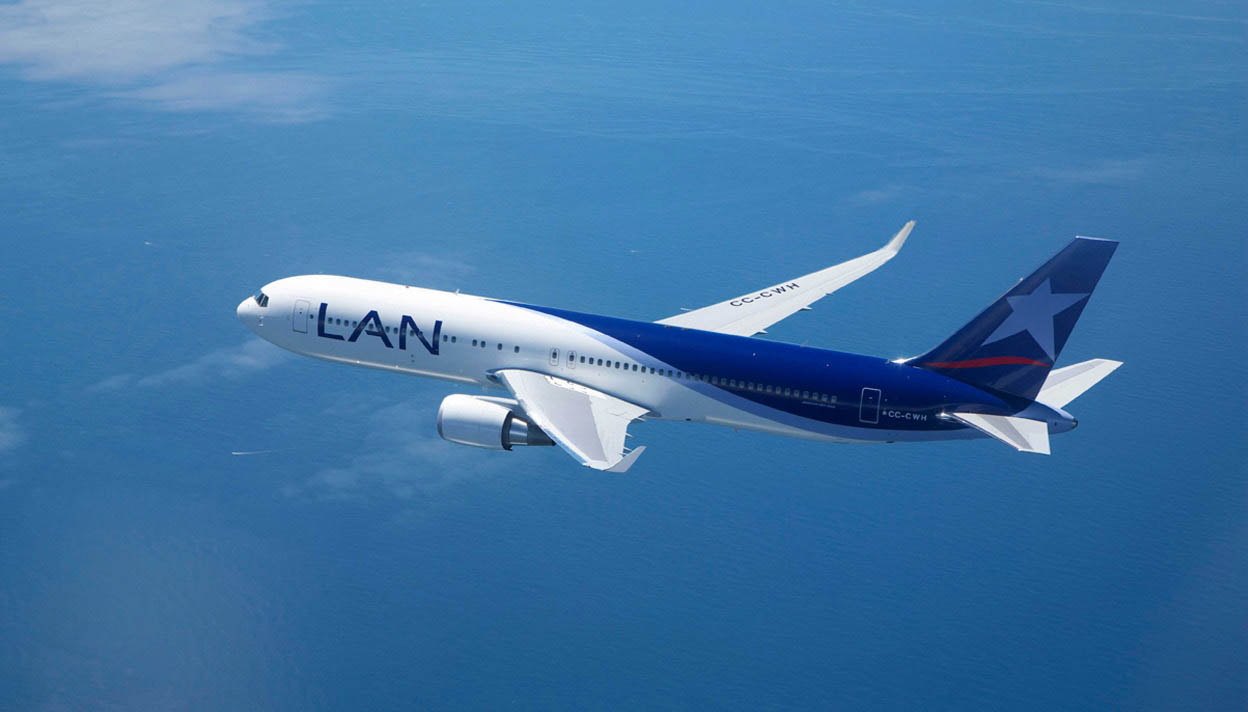 Boeing Freighter 777
Length: 63,7 mts
Width: 64,8 mts
Volumen de carga: 652,7 m3
Cruising Speed: 896 km/h
Maximun weigth at taken-off: 347,450 kg